Surroundings
Menaggio is a nice, small town on the western shore of Lake Como with a long and rich history. It offers fine dining at numerous local restaurants, many pubs, bars, cafés, gelati shops, art galleries, boutique shopping and a variety of historical attractions, including churches and enchanting villas and gardens. There are beautiful places within walking distance from Casa Peroschi, such as a lake-side promenade, the tour of the old "Castello", the Jubilee Trail, the Senagra River canyon and more. The area of Lake Como is magical, take your time to visit the wonderful nearby towns either by boat, bus or bike. Bellagio, Varenna, Lenno, Nesso, Cadenabbia, Tremezzo, Ossuccio, the Comacina Island, Porlezza, the Val Cavargna, plus Lugano and St. Moritz in Switzerland are renowned for their peculiar attractions and are popular destinations for quick trips.
From May to October a shuttle service connects Menaggio to the nearby towns along the western shore.
From June to October a rich program of concerts delights both tourists and locals in Menaggio, at Villa Vigoni and Villa Carlotta. A short drive will take you to the mountains and the amazing Italian Alps with their incredible views, hidden villages and permanent glaciers.
Dintorni
Menaggio è una bella e curata cittadina che si affaccia sulla sponda occidentale del Lago di Como. E' rinomata per la sua passeggiata a lago, forse la più panoramica di tutto il Lario. Offre la possibilità di provare la miglior cucina del lago presso i molti rinomati ristoranti locali. Inoltre vi sono numerosi bar, pub, gelaterie, pasticcerie, gallerie d'arte, boutique e una moltitudine di attrazioni storiche, chiese e ville con giardino. Vi è la possibilità di passeggiare, oltre che sul Lungolago, anche nella parte in collina della cittadina e nei dintorni, lungo il Sentiero del Giubileo, nella Valle Senagra e sulla pista ciclabile, che parte a pochi metri dalla Casa. La zona del lago di Como è unica e magnifica, da Menaggio è possibile visitare le mille piccole e meravigliose cittadine che caratterizzano il lago. Località raggiungibili in battello sono: Bellagio, Varenna, Nesso, Como; località raggiungibili in bus: Cadenabbia, Tremezzo, Ossuccio, Como, Porlezza e la Val Cavargna, Lugano e St. Moritz (CH).
Da maggio a ottobre un servizio di comode navette collega Menaggio con i paesini vicini.
Da giugno a ottobre la stagione turistica è rallegrata da eventi culturali, musicali e fuochi d'artificio. Se girate in macchina o in moto, potrete facilmente raggiungere le montagne e rimanere estasiati dalla catena delle Alpi italiane, con i suoi panorami mozzafiato, piccoli paesini nascosti qua e là e i ghiacciai permanenti.
Our Rooms
We have three bedrooms available: two double rooms sharing a bathroom and a single room with a large private ensuite. Every room has its own set of unique features, and it's themed after a specific part of the world. The largest room (room number 1) has two windows and it's light-filled. The second double room (room number 2) and the single one open on different corners of the garden; they are very quiet and have air conditioning available on request.
Daily charges: 50€ for the single room, 90€ for the double room
Le camere per gli ospiti sono tre. Due doppie con bagno in comune e una singola con un grande bagno privato. Ogni camera è diversa, e ha un tema che la caratterizza, ispirato ad una particolare zona del mondo. La camera più ampia (la numero 1) ha due grandi finestre ed è molto luminosa, l'altra camera doppia (la numero 2) e la camera singola si affacciano sugli alberi del giardino, sono silenziose e dotate di aria condizionata su richiesta.
Tariffe: 50€ per la camera singola, 90€ per la camera doppia
A Menaggio e dintorni si possono svolgere molte attività sportive tra cui: golf, minigolf, nuoto, canoa, kayak, palestra di roccia, tennis, bicicletta, beach volley. Due piste ciclabili portano, rispettivamente, in Valtellina e a Porlezza, sul lago di Lugano.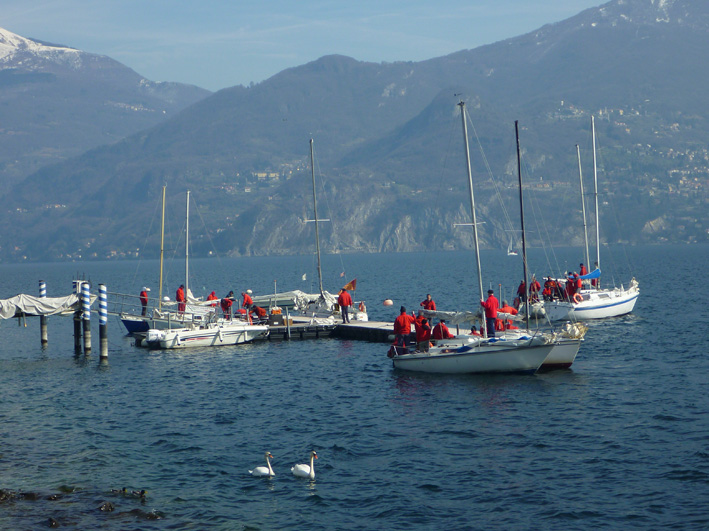 Boat rental at the Lungolago Castelli
Nearby activities include rock climbing, bike riding, swimming, canoeing and kayaking, hiking, tennis and beach volley. Menaggio hosts a well-known golf course (but you may have to give way to George Clooney as he is an avid golfer and likes to play there!). One bike trail runs along the lake connecting Menaggio with the Valtellina. A second trail follows the old tracks of a steam train going to Porlezza, on Lake Lugano.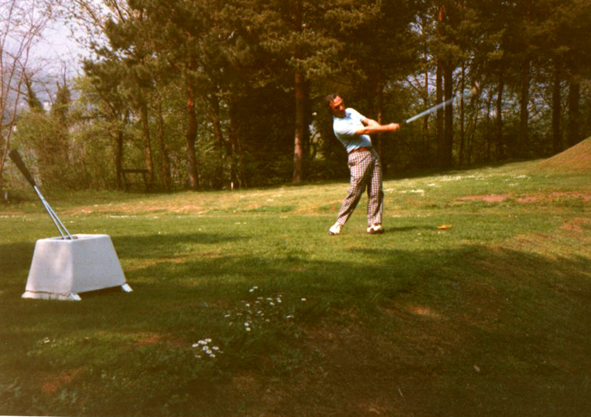 Menaggio & Cadenabbia Golf Course